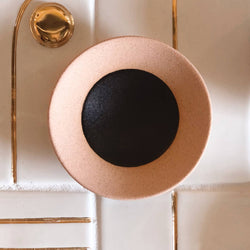 Eliana Bernard Ceramic Dish - Speckled Sand Matte Black
Ceramic dish made from custom mid-range clay bodies formulated an Austin,TX studio.
These little dishes are handmade using a combination of slab-work and throwing.
Use it as a perfect spot to rest your jewelry or whatnots. We love it combined with the larger decorative platter here on our site to add a contemporary decorative spin to your dining or coffee table. 
Dish Size: 4" x 4" x 1"
Surface: Unglazed, coarse surface in SPECKLED SAND clay with MATTE BLACK glaze center. The surfaces are partially unglazed to celebrate the natural beauty of the clay! Not recommended for food.
Handcrafted in Austin TX 

Every piece is made by hand. Slight variation in size, shape and color are inherent to the handmade process. 
Please note this item is non-returnable. 
More questions? email info@mabelandmoss.com for support 
Please be sure to check policy pages for shipping, returns and more